Deeptown Music Spring Sampler 2012
After the great response of our X-Mas Sampler 2011, Deeptown Music presents the follow up sampler with some classic house tunes. This time, the well known Dj and Producer Clemens Rumpf from Hannover put his fingers on the mix and created a very groovy and cool flow on it. Sit down and enjoy the ride to the old classic of House Music.
It's Deeptown, Baby!!!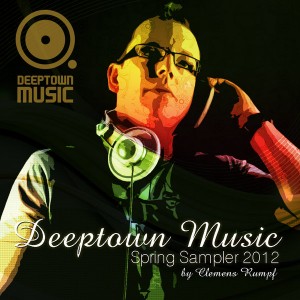 1. Audiowhores – Music
P&C 2002 Look At You
2. Deep Swing feat. Donna Washington – Take Me To The Disco (Hardsoul Disco Revenge)
P&C 2004 Generate Music
3. Groove Junkies – Deeper (Brian Tappert Soulfuric Mix)
P&C 2002 Morehouse Records
4. Ray Jones – I'm Not Like You
P&C 2008 Deeptown Music
5. Jasper Street Co. – Love Changes (Elusive Club Remix)
P&C 1999 Basement Boys
6. Michael Lange – Brothers & Sisters (Original Vocal Club)
Written by Michael G. Lange, Martyn Ware, Glen Gregory, Ian Craig-Marsh
Published by Loop Dance Construction / Warner Chappell, EMI Music
P&C 1998 Peppermint Jam Records
Licensed from Peppermint Jam GmbH
7. Raw Instinct – De La Bass (Mousse T's House Mix)
Words: P. Capitolin, Music: O. Casimir, Mousse T.
Published by MergMusic/Universal, Copyright Control
P&C 1996 Peppermint Jam Records
Licensed from Peppermint Jam GmbH
8. Mirco Esposito & Tommy Mads feat. Andrew Robinson – Feeling (Mirco's Alternativ Mix)
P&C 2008 Deeptown Music
9. Morten Trust – Love Has Come Around (Groove Junkies ReRub)
P&C 2003 Morehouse Records
10. Kenny Bobien – U Gave Me Love (Main Vocal Mix)
P&C 1999 Basement Boys
11. Mighty Dub Katz – Let The Drums Speak
P&C 2002 Southern Fried Records
12. DJ Mix by Clemens Rumpf
P&C 2012 Deeptown Music