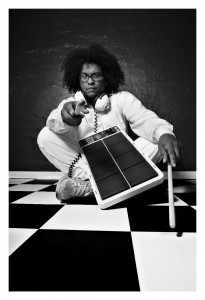 At the age of 12 his career initiates in the local group Folklórico Experimental Naza, performing at 'El Nazareno' in Casalta 2. Traditional rhythms like Parranda, Golpe Tocuyano and Fulia lead him to Gaitas, music typical from the region of Zulia. At the University 'Central de Venezuela' he stages the musical 'History of Salsa'. Appearances with various groups and artists help to tap new musical horizons: Grupo Madera, Catatumbo, Diveana, Alicia Plaza, Hely Orsini/Los Cañoneros. With Criollo y Sabroso starts a new area of performances and recordings in his home country, surfacing his real vocation: multi-percussion
From here he samples new experiences with innumerable native musicians and orchestras like Shakira, Batik, Edy Martinez, Yambao, Colombia All Stars, Cheo Feliciano, Marcelo Cezán, Charlie Zaa Carolina Sabino, José Gaviria, Alfredo de la Fé, Magenta, Pacho Galán.
Based in Bogotá he carries out percussion workshops in 20 schools around the country. He gives lectures at the Universities 'Central de Bogotá', 'Barranqilla y Manizales' and 'Uninnca'. He realizes two theatre performances 'La Casita del Placer' and 'Crecencio'. Invitations follow from the Foundation Batuta of Bogotá to participate in concert and from Richie Gajate for a Lp percussion workshop
More than 2 world tours follow with Aterciopelados Nominated best rock band of Colombia and Latin America.
Nominated twice of the Grammy 1997
Nominated twice and winner of the Grammy Latino 2001.
Appearance in Unplugged MTV in Miami and singled out by The Rolling Stones magazine as one of the best 10 live bands in the world.
While touring in Argentina he records a CD with Cachorro López.
He formes his own latin-jazz band Casalta 2
You find him live on stage with
Caballeros de la Quema, Illya Kuryaky, Desorden Público, Mata Rica, King Chango, Fabulosos Cadillac, Guaco, Todos estrellas, Gran Coquivacoa, Los Pericos and many more.
AWARDED BEST PERCUSSIONIST AND BEST MUSICIAN ABROAD POP & ROCK OF VENEZUELA
With 'Watcha Tour' he complemented bands like Molotov, Enanitos Verdes and Aterciopelados.
Multiple festivals and recordings take him to Argentina, Colombia, Dominican Republic, Germany, Spain and the United States of America.
MOVING TO EUROPE
Based in Germany he records his first album titled 'Abriéndome los Caminos'. In Europe new perspectives open up.
APPEARANCES
Cheo Feliciano – guest appearance in Rome
Celia Cruz – private concert for the Royalties in Monte Carlo
Sebastian Schunke – progressive Euro-Latin music performed on tour in Colombia, Venezuela, Laos, Turkey, Africa and Germany
Brazilectro – Sound system :tours in Italy, Spain, England, Belgium, Netherlands, Denmark, Sweden, Slovenia, Russia, Czechoslovakia, Switzerland and Portugal .
Kimbiza – concerts in Germany and Netherlands
Freak Experience – electronic music
'A Florida Enchantment' – Movie shot with live music around Germany
Hanover Big Band – Germany
Tango trifft klezmer – concerts conducted by violinist Anton Sjarov
The Screenclub Concert in Germany
Mo Horizons – Sound system: tour Russia, Pollen, Ukraine Azerbayen, Spain, Italy , Bulgarian, Turkye
Sonora 51 – Jazz band Hamburg
Marquess – Tour Germany
Ritmo del Mundo – Live percussion tour Germany
HR Big Band – Germany
Tania Maria in Germany
Luigi Texidor and Frankie Vazquez in Athenas
With the band of Sebastian Schunke he is invited to accompany
the German President Mr. Helmut Köhler to Cotonu-Africa for private concerts.
Website: http://www.facebook.com/pages/Nene-Vasquez/149125461816926