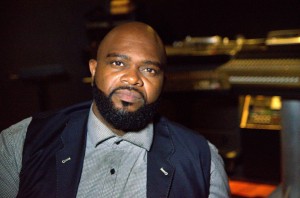 Pure soul at its finest. There is no question why he's called The Voice!
​This Baltimore native continues to distinguish himself as a writer, producer, singer and performer. Having penned over 700 songs in an eight-year period, being nominated for over 20 independent music awards and winning several of those coveted titles is impressive! Marcell has even shared the cover of a European magazine with Alicia Keys and Snoop Dog. Seeing Marcell as a solo artist can take sometime getting used to after almost a decade with "the Truth" (his former band) but when you hear his music, you realize he hasn't missed a step. He works as if he's just getting started.
Marcell has three previous albums, including two studio albums: Hopes Too High and Symbols.  His music has also been the muse for an independent  documentary film called You Saved Me.  He's often been compared to Luther Vandross, Donny Hathaway and Gerald Lavert, but his own distinct style always shines through.
Marcell has headlined in large arenas and community venues in virtually every major city in America, as well as gracing stages throughout Europe with sold-out performances. Marcell's music has an amazing ability to connect the sacred and secular in ways that just make sense for everyone who listens.  Although he is only in his mid 30's his music has audiences often wondering his age, his lyrics are timeless. He's known outside of Baltimore as the "Voice of Baltimore" but in his hometown and throughout he's simply known as "The Voice". As you hear his music it will quickly become clear why Marcell is the Voice!