Fire EP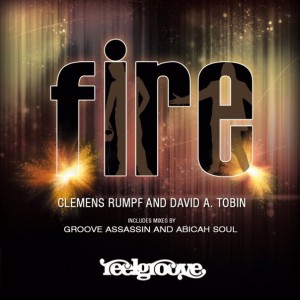 CLEMENS RUMPF AND DAVID A. TOBIN – "FIRE"
INCLUDES MIXES BY GROOVE ASSASSIN AND ABICAH SOUL
Clemens and David…. Bringin' the fire!  Its time to burn the house down!
Clemens Rumpf & David A. Tobin return on Reelgroove after their acclaimed 'Jazz In The House' EP which dominated the Traxsource Top Ten for a couple of weeks. 'Fire' is the first single taken from their forthcoming album 'Aint Nothing But House Music' due for release later this year on Reelgroove giving you a sample of whats to come!
Its time to burn the house down! Reelgroove really brings the heat on this one! David A. Tobin deleivers an outstanding vocal with huge singalong potential, yet maintain its soul and emotional feeling. Clemens offers two mixes, his first a tribute to the NY underground with a deep groovy bassline and highlighting strings. His other version adopts a more bargroove orientated approach, perfect for those chilled sophisticated audiences. First on the remix with have Groove Assassin, famed with various chart topping remixes on Defected and MN2S, he works this into a deep clubroom smasher. Perfect for those dancefloors, underground venues and peaktime vibes. His DJ Tool is sure to be used to open many sets and set up those epic build-ups throughout the DJ world. Abicah Soul twists this into a cultured underground anthem oozing soul and emotion as only he can. The package is supported by various Instrumentals and alternative mixes.
A small selection of the DJ Support:
Alfred Azzetto – Nice release and all mixes are very cool….my Favourite is
Clemens Rumpf's Original NY Edit
Richard Earnshaw – Groove Assassin Dub is cool…
Grant Nelson – Pure Fire! 4/5
Deli-G – Loving the mix GA turn out
DeepCitySoul – Got to be Clemens Bar Groove Edit here. burned and in the wallet.
WILL be rocking the floor tonight
Matt Caseli – Rocking GA mix !!! 5/5
Deep Inc – Dope remix from Abicah again. Deep soulful underground sound.
Mr. Moss takes it for the peaktime.. Clubroom banger! Cool pack! 5/5
Filin Brake – Really good package, my fav is Abicah Soul!!! 5/5
John Jones (Hed Kandi) – Original mix is a winner. Supporting for sure ; 0
Blacksoul – really good 4/5
Distant People – serious shaker ! love abicah souls remix simply fantasic,
full support from me ! 5/5
Roed Svensk – Liking the Groove Assassin Dub. Nice one! 4/5
Deep Josh – nice vocals.. perfect for my radioshow!! thanks 4/5
Demarkus Lewis – cool release.. Groove Assassin Dub stands out the
most to me here. Heavy Heavy.. thx – D
Redsoul – likin GA Dub the best! Nice deep tracky vibes going on
Park St – All about GA's dub…..But also like the Original too!
Really cool track… dope vocal!
Random Soul – GA dub is the one !
JazzLoungerz – Ruffidge! Clemens mix is uber tight!
full support over here 5/5
Mark Stone (UDM) – Fantastic quality release from Mr. Rumpf and David!
Abicah Soul on the Remix – this is ON FIRE!! UDM Radio and Dj Gig support! 5/5
Lewis Ferrier – Groove Assassin Dub works for me
Pad Beryll – Great Package! the Abicah Soul Main
Mix and Groove Assasins Dub for later are the ones for me! 4/5
Dutchican Soul – 3/5
Henri Kohn – proper stuff. groove assassin dub is my fav.
the other mixes are also quality! 4/5
Feodor AllRight & Elena Mechta (AMDJS Radio Show) –
Clemens Rumpf's bar groove edit! Like it a lot! Greg, thank you!
Count us in the support!
Colin Sales – HUUUGE!! You could go as far as saying this is most definitely ON FIRE!!
All mixes are absolutely rocking. Best release so far on Reelgroove.
Reviewing, playing ans highly recommending this!! 5/5
Dean (JjazzProject) – Not sure how I'm supposed to pick a favourite mix,
they all sound pretty damn smokin' to me.
Gonna crank them all up after I've downloaded for sure.
Alan O'Malley – Certainly worth the wait this package, wicked production overall!!
Groove Assassin dub is the one which smashes it for me, full support at this end…
Mannix – all Nick Moss here!!! 4/5
Russ (I-DJ) – A very classic-sounding vocal, reminds me of D-Train a bit for some reason 4/5
Michael Fossati (Spirit Of House) – All mixes rock,
but I'm all over the smooth vibes of the 'Bar Groove Edit'…. 4/5