Pepper Mashay and Clemens Rumpf – Our World
TRAXSOURCE | BEATPORT | JUNO | DJ-SHOP | MUSICLOAD | iTUNES | AMAZON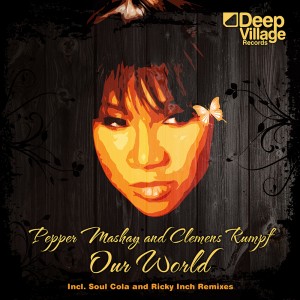 Deep Village Digital Records is very proud to announce the quality release "Our World" with the international Soul Diva "Pepper Mashay". Pepper Mashay (Los Angeles) is an unique artist who is since over 20 years in music business. She works with Tina Turner and has many chart placements in the U.S. Dance Charts. Her distinctive voice is on off the hottest in the music scene.
Produced by Clemens Rumpf touched "Our World" the hearts of many soulful house lovers around the globe.
Including the powerfull soulful edits by Soul Cola Pasha NoFrost and Kolya Smart (Moscow) and Ricky Inch (Estonia).
Credits:
Track 1-4-5:
Written & Produced: Clemens Rumpf
Additional production: Clemens Rumpf
Vocals: Pepper Mashay
Lyrics: Pepper Mashay
Recording & Mastering at Deep Village Studios Hannover, Germany
Additional Credits:
Jean M McClain/Freckle Bandit Music/BMI
Rudy Calvo-Makeup
Alan Mercer-Photography
Craig Mingus/FBNCE
Track 2:
Remix and additional production by
Riho Ints aka Ricky Inch
Track 3:
Remix and additional production by
Soul Cola (Pasha NoFrost and Kolya Smart)