CLEMENS RUMPF AND WILLY WASHINGTON FEAT. TEDDY B – HOW YOU MAKE ME FEEL
TRAXSOURCE | BEATPORT | AMAZON | DJ SHOP | iTUNES | DJTUNES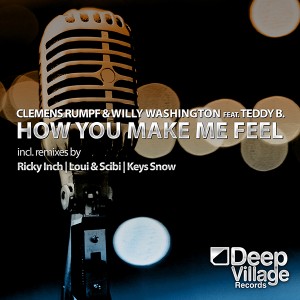 Clemens Rumpf, Willy Washington & Teddy B team up for another classic soulful house project to be released this Autumn, 2012. The new house bomb "How You Make Me Feel" will undoubtedly be another eternal milestone on Deep Village Records. We are proud to be releasing some of the last work of the late great Teddy B from Brooklyn, New York.
Clemens Rumpf, Ricky Inch, Loui & Scibi and Keys Snow present fantastic, deep and soulful house interpretations of this classic that make for a quality international dance music package.
We hope you will enjoy this release and support us in your playlists. Peace
Credits:
Track 1:
Produced: Clemens Rumpf & Willy Washington
Additional production: Clemens Rumpf
Lyrics: Danny & Daniel Chavis & Willy Washington
Vocals: Teddy B.
Track 2:
Remix and additional production by
Riho Ints aka Ricky Inch
Track 3:
Remix and additional production by
Loui & Scibi
Track 4:
Remix and additional production by
Keys Snow
Mastering at Deep Village Studios Hannover, Germany