Deep Village Digital Records announces the ADE SAMPLER 2013 by Clemens Rumpf.
TRAXSOURCE | BEATPORT | AMAZON | DJ SHOP | iTUNES | DJTUNES | JUNO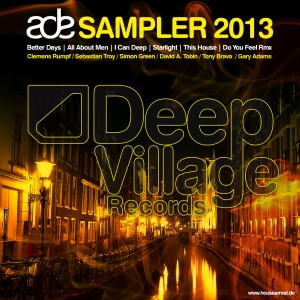 Clemens has teamed up with Artists like Simon Green feat. Angie Brown, David A. Tobin, Tony Bravo, Sebastian Troy and Gary Adams for this quality music sampler.  We would like to provide songs with soulful and deep character for the community to bring back a timeless quality in house music.
We hope you will enjoy and support this deep package of good music!
This House:
Additional production: Clemens Rumpf
Lyrics: David A. Tobin & Clemens  Rumpf
Vocals: David A. Tobin
Better Days:
Additional production: Clemens Rumpf
Lyrics: David A. Tobin
Vocals: David A. Tobin
Backgrounds: Venus
Bass: Grischka Zepf
Trumpets: Kafele Bandele
I Can Deep:
Additional production: Clemens Rumpf
Lyrics: Simon Green
Vocals: Simon Green
Backgrounds: Angie Brown
Starlight:
Additional production: Clemens Rumpf
Lyrics: David A. Tobin & Clemens  Rumpf
Vocals: David A. Tobin
All about Men:
Additional production: Clemens Rumpf
Lyrics: Sebastian Troy
Vocals: Sebastian Troy
Bass: Sebastian Troy
Guitars: Sebastian Troy
Doy You Feel Remixes:
Additional production: Clemens Rumpf & Tony Bravo
Remixer: Tony Bravo
Lyrics: Willy Washington & Gary Adams
Vocals: Gary Adams
Executive Production & Mastering at Deep Village Studios Hannover, Germany