Burning Up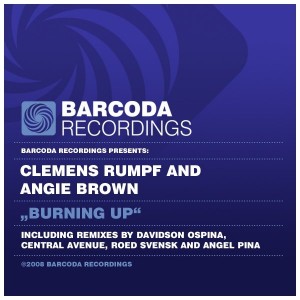 Clemens Rumpf is from Hannover, Germany and has quickly become a rising name on the house scene with recent releases and remixes on labels such as Ospina Digital, White Lotus Club, Delicious Garden and now Barcoda.
Angle Brown barely needs introduction, since her smash number 2 hit with Bizarre inc in 1996 that launched an international singing career with the track "Im Gonna Get Ya". Angie went on to work with The Happy Mondays, The Spice Girls, Rolling Stones, Mark Morrison. Beverly Knight, Chaka Khan, Fatboy Slim, The Stereophonies and the list just keeps going, with world class acts this vocal legend has worked with.
Remixes on this come courtesy of Central Avenue, Roed Svensk, Davidson Ospina and Angel Pina.
Artist: Clemens Rumpf and Angle Brown
Title: "Burning Up"
Label: Barcoda Recordings BC019
Published: Barcoda Music