You are my medicine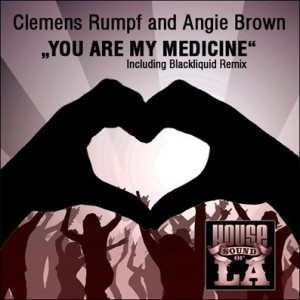 House Sound of LA are proud to announce the forthcoming release of
Clemens Rumpf & Angie Browns new record "You Are My Medicine"

Clemens Rumpf and Angie Brown team up this Summer once again with another master peace in soulful housemusic.
The lovely lyrics and funky guitars by Johannes Uhlmann gives it that perfect funky and deeper feeling.
Clemens Rumpf is from Hannover, Germany and has quickly become a rising name on the house scene with recent releases and remixes
on labels such as Ospina Digital, Barcoda Rec., Reelgroove, Open Bar, White Lotus Club, Delicious Garden and now on House Sound of L.A..
Angle Brown barely needs introduction, since her smash number 2 hit with Bizarre inc in 1996 that launched an international singing career with the
track "Im Gonna Get Ya". Angie went on to work with The Happy Mondays, The Spice Girls, Rolling Stones, Mark Morrison. Beverly Knight, Chaka Khan,
Fatboy Slim, The Stereophonics and the list just keeps on going, with world class acts that this vocal legend has worked with.
Remixes include: A classic Blackliquid funky House remix adds to the pot to make this tasty offering a must-have for the funky and soulful house dancefloor DJ bag.